Pediatrician and co-founder of the Sainte-Justine Hospital for children in Montreal.
Who was Dr. Irma LeVasseur? Little has been written about this woman who has changed the history of medicine in Quebec. Born in Quebec City in 1877, into a family of artists, her mother was, Fedora Venner, opera singer, and her father, Louis-Nazaire LeVasseur, was a writer and journalist.

She was educated like all young girls of her age were educated at that time. There is no indication to suggest that she was influenced to engage in the path she chose to follow. After completing high-school, young Irma had to make a choice. She decided to pursue a career in medicine. At that time, Canadian University did not accept women in medicine. To pursue her medical studies, she went to the United States.

Irma studied in Minnesota for about six years where she obtained her doctorate degree in medicine. Upon her return to Quebec, in 1900, she had to wait three years before obtaining the right to practise her profession. It was only in April 1903, through a private Bill, that she was admitted to the College of physicians and Surgeons of the province of Quebec and allowed to practice medicine. During this waiting period, she worked as a physician in the United States.

Upon her return to Quebec, she was touched and saddened by the lack of care for sick children. She therefore decided to broaden her knowledge of childhood diseases in Europe. In 1908, after her stay overseas, she met Madame De Gaspé-Beaubien with whom she founded the Sainte-Justine Hospital. It is in that hospital that she applied her newly acquired pediatric knowledge and skills. In 1915, responding to a call for Canadian physicians to assist in the First World War, she went to Serbia where she devoted two years caring for soldiers affected by combat fatigue, bombs and diseases.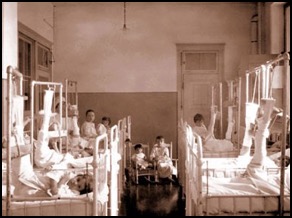 Nothing can stop this pioneer of Quebec medicine. In 1918, she worked in New York for the Red Cross. In 1922, she returned to Quebec, and invested her savings in the foundation of l'Hôpital de l'Enfant Jesus where she practiced until 1927. Dissatisfied with the administration, she left the hospital and, on the outskirts of St-Jean-Baptiste founded her own clinic for disabled children. She also decided to open a school for disabled youngsters that would eventually become the future Cardinal-Villeneuve school. Not only Ms. LeVasseur had a passion for medicine, but she showed talent for painting. She was one of the first students to enroll at the school of fine arts at its opening in 1920.

But all of these achievements were never recognized. It is only in 1950,
during her Golden Jubilee
celebrated by the Women's University Society Club, that she was celebrated for her accomplishments, her courage and her perseverance.

Dr. Irma LeVasseur died in January 1964 without having been praised or recognized by the press and her peers. She died alone and in poverty. It is a pathetic life-ending for a pioneer who gave everything for her province, her country, and for children. Throughout her life she fought to pursue her dreams of helping others and to practise the profession she loved. Dr. Irma LeVasseur can be considered as the instigator for having women accepted in medical schools and hospitals for sick children.

Source :
https://www.collectionscanada.gc.ca/femmes/030001-1408-f.html